Swimming Pool Renovation Specialists
A Swimming Pool Renovation project is a lot more difficult to do as opposed to building a new pool. The Poolice | Pool Repair Company been Repairing, Remodeling and Resurfacing pools for the past decade. Over that we understand what needs to be done in any situation regarding your Swimming Pool Renovation.
Swimming Pool Renovations are a true specialty which takes experience and know how.. Don't expect most pool builders or service companies to have the expertise or know-how to remodel your pool properly. We have renovated and remodeled numerous pools in Johannesburg. We have the skills and experience needed to complete any job, no matter what your pool improvement needs may be! View Our Mugshots
Different people will have different reasons as to why they want to have their pools renovated. Some may do so because of aesthetic issues, while others are more concerned about functionality and usage. In any case, if you're looking to have your pool renovated, know that you have several options to choose from. Here, we offer variety of renovation options that can transform and update your  pool.
Most Popular Pool Renovations
Swimming Pool Resurfacing
Resurfacing typically involves acid washing the pool's surface chipping out the damaged material, applying a new finish with Marbelite, Epoxy Paint or Fibreglass. The Poolice | Pool Repair Company's unique Resurfacing Method will outlast other swimming pool resurfacing methods.
In Pool Seating Areas
The most popular feature of a pool are often the seating areas. Adults enjoy kicking back and relaxing in the water and kids love to jump on and off seats. We can add seating areas to you pool as part of your renovation.
Depth Changes
Some clients prefer a more shallow pool end to stand in the water and play with children or grandchildren with ease. A shallower pool also means less water and therefore less chemicals/maintenance and can result in warmer pool water.
Equipment Upgrades
Pool equipment tend to break down over time. When this happens, they could be less efficient and using more electricity than they should be. If you think the sudden surge in your electricity bills are caused by old and damaged pool equipment, it's about time to have them replaced.
Customised Pool Steps
Some of our elderly clients find it difficult or even impossible to enter and exit their pool. By adding extra pool steps and benches to entry areas we have transformed a neglected and barely used pool
Reshaping Pool Size
It is popular for clients to replace curved walls with straight walls and stepped areas/benches. Many older pools have curved walls and are too deep or too big to suit our clients needs. We can change your pools size, shape and depth as well as adding steps and benches. See below at a typical Size Remodel we recently completed.
Pool Size & Shape Remodel
Many of the pools in Johannesburg were built 30+ years ago, with the mindset of Bigger is Better. These Monstrosities are as Deep as they are wide. Large swimming pools require more maintenance and increased usage of pool chemicals.
Step 1
A trench is cut down the pool walls and across the floor exposing the existing reinforcing steel in preparation for the construction of the new wall.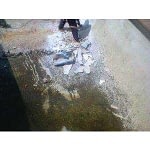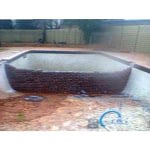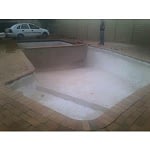 Step 2
A new pool wall was constructed. 8mm Steel rebar pins are drilled into the existing gunite wall at alternate angles of the bars slightly in different directions for additional strength to anchor the brickwork. We also apply brick force every second row of bricks to reinforce the brickwork.
Step 3
We then Backfill the unused cavity left on one side of the pool. This is done by laying a lot of building rubble while compacting it in layers not exceeding 150mm at a time. We do not use large pieces of building waste in the backfilling ­as it does not compact very well.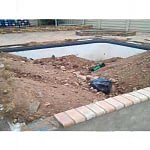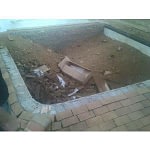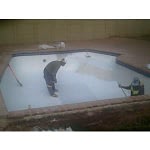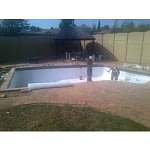 Step 4
The pool is resurfaced with either Marbelite or Fibreglass. With this pool we used Fibreglass.
Step 5
Install new swimming pool Light. Install new Swimming pool Skimmer. Apply Mosaic tissue around the edge of the pool. Apply final isophthalic flow coat (blue)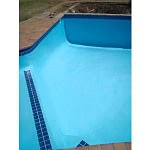 The Poolice | Pool Repair Company owes its success not only to its superior methods, but also to its unwavering commitment to customer service, integrity, and quality workmanship. By doing a job right the first time, The Poolice | Pool Repair Company has quickly earned a reputation for excellence.
If you are ready to renovate your swimming pool, feel free to give us a call & we will offer you the best advice possible & will do our best to work within your budget without compromising on quality.