NEED LEAK DETECTION AND REPAIR SERVICES?
Leak Detection and Repair is something we specialise in. The problem with a leaking swimming pool is that unless the problem is in an obvious place. it can be quite tricky to locate & repair the leak. Many pool owners mistakenly believe a leak would be obvious. However, most leaks are not obvious, until they are of major concern. We are speaking of thousands of Rands of damage. What other Damage/Problems can leaks cause?
Chemical imbalance
If you can't maintain your pool's pH, it may be a sign that you have a water leak. Slow pool leaks will also have an impact on your pool water chemistry. It can be difficult to maintain perfectly balanced pH and chlorine levels, especially when the water level is lower than average. Chemicals you add to the pool will leak out with the water, which can result in algae growth.
Damage to your pool Pump and Motor
Swimming pool leaks that go unattended will cause soil erosion; this will result in more problems with your pool. Since most modern swimming pools are piped with PVC, the stress caused by the soil erosion will break additional PVC(plastic) pipes. A sinkhole can occur whether you have an inground pool or an above-ground pool. A pool that is allowed to leak into the foundation underneath can lead to a very large, very dangerous sinkhole. In fact, leaking water is the main cause of a sinkhole. Sinkholes start developing a long time before they actually appear , So any leak should be addressed quickly to avoid additional problems.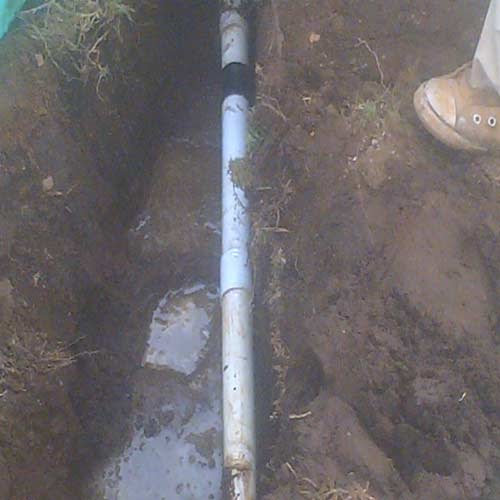 Damage to your plumbing
A pool leak can also affect the plumbing connecting the pool with the filter equipment, in which case the pipes may corrode. As we mentioned above, as the leak progresses, the ground may become saturated and erode, causing shifts in the foundation. This can lead to a tear or break in the pipes and the appearance of damp areas near the pool.
Structural damage
If you suspect a leak,  dont take a chance.  The leak can be detected before it causes considerable damage to the concrete substructure. Keep in mind that even a tiny pool leak can erode the concrete and grow larger, resulting in more severe structural damage and water loss. This is why every delicate crack needs to be inspected soon after it is spotted. If you have a fibreglass pool and the ground around it becomes wet due to a leak, your pool may "float" in case there's not enough water inside to equalize the pressure from the saturated soil. As a consequence, the sides of the pool can buckle inward.
Worried About A Potential Leak?
The Poolice | Pool Repair Company is available to perform a leak detection and repairs for residential pools as well as commercial pools, regardless of the type of pool you have. Aside from homeowners, pool professionals and Real Estate Agents can also benefit from the expert care and attention of a Full Pool Inspection.  Call now to schedule an inspection at 061 506 8721