Fibreglass Rool Resurfacing is the Best
Fibreglass Pool Resurfacing must not be confused with Fibreglass Moulded Pools. Fibreglass Pool Resurfacing is when well-trained laminators apply layers of 450g chop strand Fibreglass mat and surface tissue over the entire pool surface. Fibreglass is an extremely versatile material due to its light weight, inherent strength and weather-resistant finish. It also is chemical and fire resistant and is easily moulded to any shape, which supports our view that fibreglass resurfacing is a superior product compared to synthetic or natural fabrics which wear and tear easily. Furthermore, concrete & Marbelite pool surfaces are known to erode and become rough from age and salt water chemicals, this will require concrete pools to be resurfaced more often unless resurfaced with fibreglass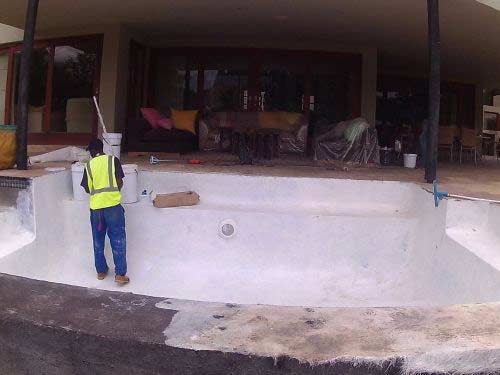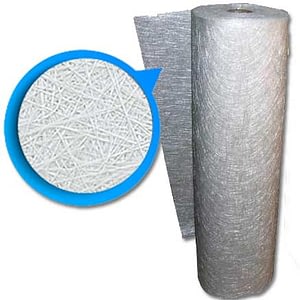 Fibreglass coatings are the highest quality method for transforming stained, dingy or damaged swimming pools, fountains or other liquid containment vessels into a sparkling surfaces that look brand new, and is easy to maintain. The process was developed for use in any situation that demands a seamless, waterproof barrier that permanently adheres to concrete, steel, aluminium, or virtually any structurally sound surface. As a result, Fibreglass can be utilized for swimming pools, water fountains, sea aquariums, commercial water parks, zoological settings, industrial applications and more.
Fibreglass has been proven to reduce the cost of overall swimming pool maintenance as well as chemical costs. Because the Fibreglass process creates a non-porous, smooth, watertight surface it also reduces algae adhesion, resists stains and spots and eliminates the scraped knees and elbows caused by other swimming pool surfaces. Over the years, Fibreglass has earned an outstanding reputation for the highest quality product
Our unique Fibreglass Pool Resurfacing process Outlasts and Outperforms every other pool resurfacing method while also reducing the cost of maintaining your pool. For the highest quality, dependability and an Unmatched 15-year Limited Warranty*, go with the experienced professionals to Resurface your pool with Fibreglass. Remember to Hire PROS before JOES
What are the advantages of Fibreglass Pool Resurfacing?
For starters, Fibreglass lasts longer than Concrete or Marbelite plaster. Also, Fibreglass is smoother, so it absorbs fewer chemicals and less organic material. Fibreglass resists algae stains, too. When correctly done, you are left with a good-looking pool likely to last a good long time.
What Type If Pools Can be Resurfaced?
Fibreglass linings are applied to existing Gunited or Marbelite pools as well as Fibreglass pools, either for cosmetic reasons i.e. to offer an attractive finish which is strong, durable, and requires minimal maintenance, or for functional reasons, i.e. to provide a waterproof lining for pools that are prone to leaking
Which is Cheaper?
Compared to a concrete or Marbelite pool, a fibreglass lined pool is generally less costly to maintain on a daily or monthly basis. The savings are due to the significant reductions in the chemicals required during summer, to maintain well balanced, crystal-clear water. Saving also accrue because the tough, durable, but smooth surface of the fibreglass lining creates far less wear and tear on automatic pool cleaning equipment compared with the relatively rough surface of gunite or Marbelite plaster
We invite you to explore our website to learn more about the unique Repairs and Renovations we Specialise in to turn your old pool problems into a sparkling new solution. If you are considering resurfacing your pool with Fibreglass or If you would like to learn more about Other Resurfacing Options please complete the form to request more info or call us on 061 506 8721
Fibreglass Mosaic Samples