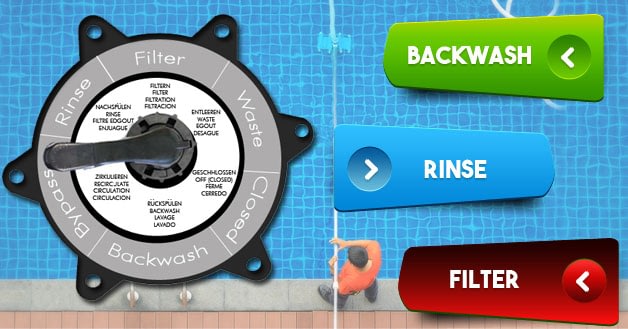 How to backwash and rinse your swimming pool
Backwashing and rinsing is an essential part of keeping your swimming pool sparkling clean. Do you know how to backwash and rinse your pool?
Backwashing and rinsing of your pool's filtration system should be performed once a week – but can be done more, or less, frequently depending on various factors. Here's how to backwash and rinse your swimming pool in a few easy steps:
1. Turn off your pool pump and disconnect your pool cleaner
2. Clear all the floating debris from your pool, from the weir basket (skimmer) and from the pump basket
3. Turn the lever on the multiport valve from the filter setting to the backwash setting. Always turn the lever clockwise
4. Turn the pump on and allow it to run for approximately 2 minutes or until the sight glass on the multiport valve runs clear.
5. Turn off the pump and turn the multiport valve to the rinse setting
6. Turn on the pump and allow it to rinse for 30 seconds then turn it off
NB* If your sight glass does not run clear, repeat steps 3 to 6 until the water runs clear. If it does not run clear after repeating those steps a few times, then you should contact an expert at Your Pool shop to diagnose the water to see why this may be happening.
7. Reconnect your pool cleaner
8. Turn the multiport valve lever to the filter setting
9. Turn on your pump and continue to run as usual
If you have any questions regarding how long you should be running your pool pump, here is a simple rule of thumb. In summer you should be running your pool pump for 8 to 12 hours daily. In winter you should run your pool pump for 4 to 6 hours daily. The pool water needs to circulate through the sand filter more frequently in summer due to higher usage.